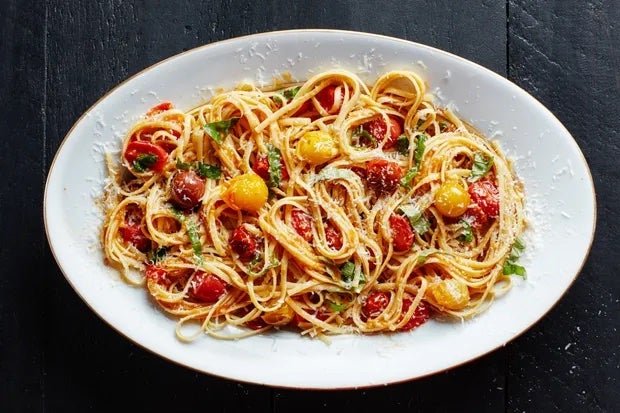 It is very satisfying with a dinner salad and a nice glass of wine. It is really important that you use fresh, tasty cherry tomatoes.
Ingredients
375 g spaghetti
2 tablespoons of Libellula Extra Virgin olive oil
2 cloves garlic
400 g Italian cherry tomatoes, sliced in half (approximately 1.5 cups)
2 tablespoons fresh basil, chopped
Salt and garlic
Cook pasta according to directions on package. While the pasta is cooking, saute the garlic and the red pepper flakes in Extra Virgin olive oil over medium heat. Don't let the garlic get brown. After 2-3 minutes, turn off the heat and add the cherry tomatoes to the pan. When pasta is done cooking and has been drained, add in the tomato mixture, add in basil and mix well. Add salt& pepper as you like.