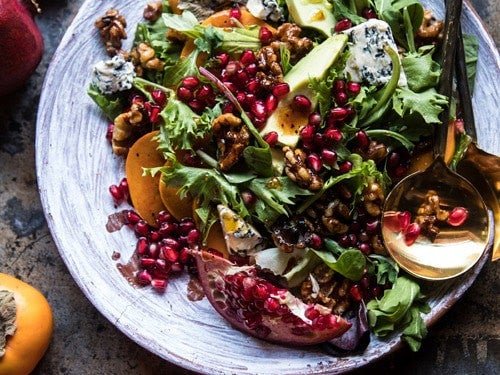 Ingredients
Any mixed greens just no iceberg (I like to mix gem lettuce, rucola and mache)
Walnuts (toasted if you like and have space on the stove top or oven to do so)
Pomegranate seeds removed from the fruit
1/2 cup of Extra Virgin Olive Oil (I recommend Hojiblanca for its low bitterness and peppery aftertaste)
2 tablespoons of balsamic vinegar (I used Modena but pomegranate balsamic or other flavor would be great)
A scant tablespoon of apple cider vinegar
Salt and pepper to taste (about 1/2 teaspoon of each)
Put the greens in cold water so that they are nice and crisp when ready to serve. Rotate the pomegranate in your hand as you hit the outside of the flesh. Let the seeds fall into a bowl. Remove any fruit lining that may have fallen into the bowl. You only want the garnet colored seeds.
Wisk together all of the ingredients for the dressing.
Right before you are ready to serve, spin dry your lettuce leaves and put the salad together either in a bowl or plate by plate.

Enjoy!