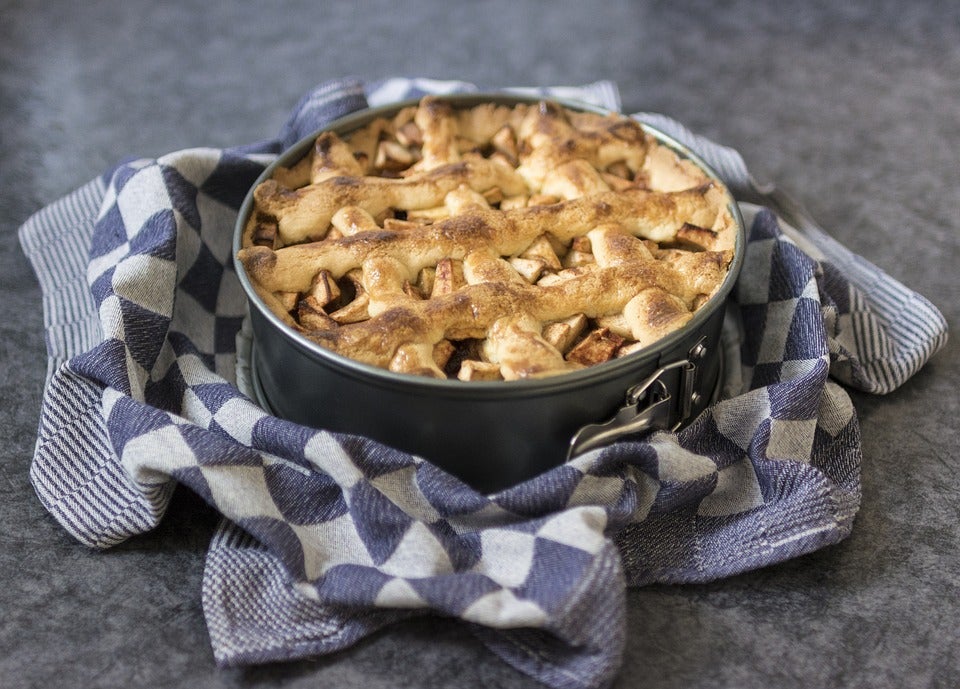 There is no butter at all in this delicious pie bursting with apples!
Ingredients
Crust:
2 1/2 cups all purpose flour
2 Tablespoons sugar
1/2 teaspoon salt
1/2 cup low fat milk 
1/2 cup Libellula Extra Virgin olive oil

Filling:
3/4 cup sugar
3 Tablespoons Minute tapioca (or all-purpose flour)
1/4 teaspoon cinnamon
1/8 teaspoon nutmeg
3 pounds apples, chopped into 1-inch pieces (9-10 cups) – I use Granny Smith
[a Tablespoon of milk + a Tablespoon of sugar for topping]
Crust:
Preheat oven to 400° F.
Combine flour, sugar, and salt in a bowl.
Stir in milk & Libellula Evoo all at once and combine using a fork. Shape into a ball by hand.
Divide dough in two. Shape each into a 5-inch disc. Wrap one in wax paper.
Roll the other half between floured wax paper into a 12-inch circle and place into the ungreased pie pan. Patch where needed, trim edges, and add leftover dough to the other half.
Refrigerate both while you prepare filling.
Filling:
Combine sugar, tapioca, and spices in a large bowl.
Peel, quarter & core apples. Cut into 1-inch chunks.
Stir apples into the tapioca mixture and place in prepared pie pan.
Roll top pastry between floured wax paper and place on top. Trim or flute edges.
Brush top with milk & sprinkle with sugar, avoiding the rim of the pastry.
Poke about 12 slits in the top using a sharp knife. Cut out a 1/2-inch circle in the center to release steam. Place on baking sheet in case of spills.
Cover the rim with a pie ring or foil. Bake for 50 minutes. Cool completely (about 3 hours).